Achieve Your Vision
Perhaps you have an old rocking chair that needs refurbishing. Or you need new cushions to go with the lounge that is also in need of an upholstery upgrade. Then there's the fabrics, finishes, drapery and cabinetry to consider. At Upholstery Solutions your interior visions are created and turned into reality.
They cater for all budgets on projects of all sizes, from a single heirloom chair to whole-home renovations. At Upholstery Solutions, the customer is offered personalized design guidance where you can book a creative session in their show room or they can come to your home if preferred. Together you will create the perfect look.
IT STARTS WITH THREE SIMPLE STEPS
1. Consultation
Start with a one on one consultation. Upholstery Solutions will visit your home with handpicked fabrics and design ideas to suit your taste and budget.
2. Planning
Your creativity will be inspired and unleashed! An Upholstery Solutions design specialist will make the selection of fabrics and finishes a fun and rewarding process.
3. Implementation
With Upholstery Solutions it's all about adding the customer's personal touch even as your furnishings are being crafted. They can customize height, comfort, depth and more…
Discover what it feels like to be surrounded by furnishings that are uniquely you. Furnishings that you have created and then feel the joy of seeing your home transformed. So put your feet up and let Upholstery Solutions do the rest. Their collections team will schedule a pickup time and a location that works for you.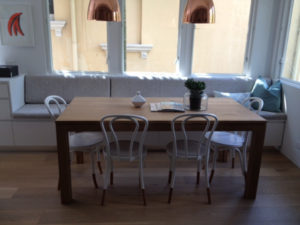 Return delivery and installation is included in your project cost. Deliveries can be arranged for any week day afternoon, or on weekends by appointment. If you are moving into a new premises, Upholstery Solutions can organize delivery to your new location Australia wide.
All production is carried out by expert Sydney upholsterers and furniture craftsmen. All residential workmanship is backed by a lifetime guarantee. At Upholstery Solutions care and quality are the watchwords of their manufacturing process.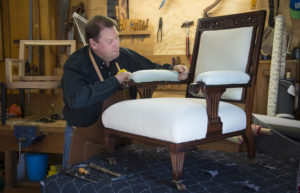 So join thousands of Upholstery Solutions customers who are enjoying the comfortable, beautiful and high-quality furnishings they've ever owned. Their creativity and expertise ensures your satisfaction. To find out more about Upholstery Solutions visit their website or call 02 46 55 6138.